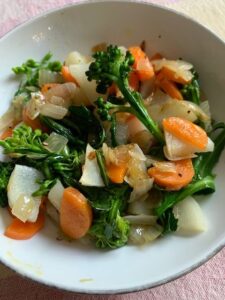 Daikon radish, though often overlooked, is a nice mild-tasting  root vegetable addition to vegetable sautees.  It belongs to the cruciferous family of vegetables which is known for many health benefits when included as part of a diet.
Here I have made use of winter-grown vegetables from my greenhouse and cold frame, but these vegetables are all available in the produce section of most grocery stores and natural food co-ops.  If you have a cold frame, give daikon radish a try–they grow fast, are very cold hardy, and store well once harvested in the refrigerator.  Also, if your collards or kale goes to flower, pick the flower heads before they open–they are similar to broccolini.
This vegetable mix can be served over rice, millet, quinoa, or can be served as a side.
Serves 2
4 Tbsp. ghee
1 cup chopped yellow onion
1 cup chopped daikon radish (quarter lengthwise and then slice in 1/4 inch pieces)
1 cup chopped carrot
1 cup broccoli or broccolini florets (or your kale or collard  that are starting to flower–see the picture above.  Really look like broccoli!)
salt, black pepper to taste
Melt ghee over medium heat in a large skillet.  Add onions and saute with an occasional stir for a few minutes.  Add the carrots and daikon and stir well.  Cover with a lid and continue to cook over medium heat stirring occasionally until carrots are tender.  Add florets and stir.  Crack the lid and cook until the florets are just tender and bright green–do not overcook!   Remove from heat and add salt and black pepper (if desired) to taste.  Serve as a side or over rice, millet or quinoa that was previously prepared (see recipe link above).
Please follow and like us: