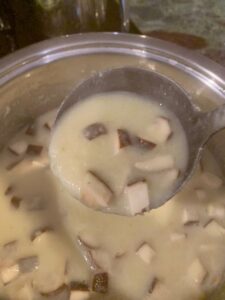 This is an unusual recipe for me to post but it was so good and so easy I wanted to share it.  If you like a creamy mushroom soup, try it!
So, you need some leftover cauliflower soup to make this.  Since I make the cauliflower soup frequently and often have leftover to last a day or two, this recipe  is easy for me.   I had some shiitake mushroom to use up so it all fell into place.  If you want your cauliflower soup to be extra "creamy" try adding a celeriac root.
Serves 2
1 quart of cauliflower soup
1/4 cup ghee
1 cup chopped shiitake mushrooms
Melt the ghee in a soup pot and allow it to get hot over medium heat for a minute or two .   Add the shiitake mushrooms.  Stir to coat the mushrooms–they will absorb the ghee so keep stirring for 3-4 minutes.  Add the cauliflower soup and bring to a simmer over medium heat.  Let it simmer for 10 minutes.  Add salt if desired.  Serve hot.
Please follow and like us: