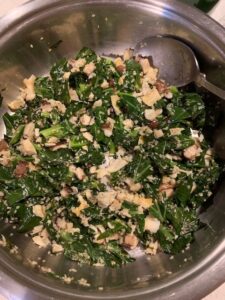 In the past I posted a recipe for Sesame Greens.  Here's an idea for making more of a main dish with this recipe–just add a protein and some shitake mushrooms.  When you are short of time and the fridge is getting empty, canned items can be a blessing.  We've had collard greens all winter long from our cold frame in the garden and plenty of garlic stored from last year's harvest, so it was easy for me to throw this together and use up a can of minced clams that I had and didn't know what to do with.  You could use some bacon instead if you have that on hand.  I served this dish with roasted sweet potato "fries" and a salad.  Surprisingly good or I wouldn't be posting it!
Serves 2
Follow the Sesame Greens recipe but add:
1 cup chopped Shitake mushrooms
Add the mushrooms to the garlic ghee mixture so that they cook for a few minutes before adding other ingredients.
1 6.5oz. can of wild chopped clams
Drain half the water out of the can.  Add the clams as the last ingredient–be sure to include half the water that is in the can.  Heat for 2-3 minutes until all  ingredients are evenly heated through.
Serve immediately.