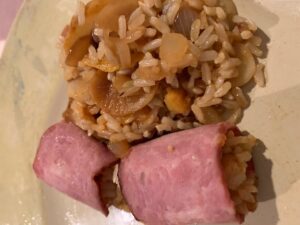 This is a quick meal if you have some bacon and leftover brown rice on hand.  We use organic turkey bacon, but preferably bacon should also be from pasture-raised animals whether it is turkey or pork.  Also, these would be good for breakfast or lunch and kids will love them.  Use other vegetables for the rice mixture if you wish and serve some extra of this rice mixture with the rollups.
Serves 2
4 strips of bacon
2 cups cooked brown rice
2 Tbsp. ghee
1 cup finely chopped onion
1 cup finely chopped squash–I used delicata which is the most delicious in my mind but not so easy to find
1 cup thinly sliced rounds of daikon radish, if the radish is large half it or quarter it lengthwise before slicing
1 tsp. ground cumin seed
Organic tamari to taste (replace with salt if desired); and optional hot pepper sauce to taste
Melt the ghee in a large skillet over medium heat.  Add the onions and stir a few times for 5 minutes to slightly brown the onions.  Add the other vegetables and stir well.  Continue to heat over medium heat stirring a few times for another 5 minutes until the vegetables are all tender or easily pierced with a fork.  Stir in the rice.  Heat for another few minutes.  Season with cumin and tamari or salt, to taste.  Add hot pepper sauce if desired.  Set aside rice mix and cook the bacon however you like–I use a toaster oven set at 350 degree F for five minutes or so.  Place the bacon on a plate and spoon some rice mixture on each strip.  Spread it evenly while pressing it down.  Roll up the bacon and serve on a plate with some extra rice mixture.  Enjoy while still warm but I suppose they would be good cold too.