If you haven't tried to make sour pickles, it's a good time of year to give it a go—it's so easy and there's no canning necessary!  You should be able to find locally grown organic cucumbers.  Smaller, pickling varieties are best, but even regular eating cukes are good but they should be on the small side so that they are less seedy.  I've posted this recipe before but I have made some changes.  Please read the earlier recipe post to get more information and then give this version a try.  I have found that I get better results when I make just a quart at a time and when I keep them fermenting in a cooler with an ice pack to maintain a lower temperature (65-70 degrees F is best).
Here's a picture of my set up.  There's one quart of pickles and a jar of ginger carrots fermenting at the same time in this photo. You can put a glass dish or jar on top of the pickles to keep them submerged.  Also, if you place a dish or bowl under the jar if the brine overflows as the pickles  ferment you won't have a mess.  Since the dish completely covers the mouth of the pickle jar I did not need to cover it with cheese cloth (not the case for the carrots).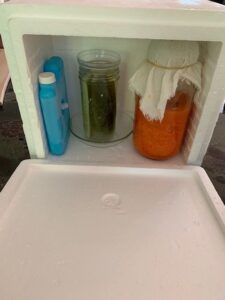 I have a  styrofoam cooler that can sit on my counter-top and when placed on its side it fits both quart and 1/2 gallon wide-mouthed jars.  All you need is one ice pack changed twice a day–before bed and first thing in the morning to keep it cool enough. If you keep your house air-conditioned and at a constant low temperature (about 70) you won't need the cooler.
The ratio for brine is 3 Tbsp. of sea salt to 1 quart of water.  If your brine is not salty enough the pickles will spoil.  I have found that if made in smaller batches (a quart instead of a gallon), it's easier to accomplish and I can just use the extra cucumbers as they come from the garden.  Remember, this is a way of preserving food–these pickles will keep for months in your refrigerator.  Don't pack the jar with cucumber halves–put them in loosely, otherwise you may not have enough brine to do the job.
For 1 quart of pickles:
About 2-4 small cucumbers, washed well and sliced in half (size will determine how many you can fit in the jar)
1 sprig of fresh dill or 1 tsp. dried dill weed, optional
3 large cloves garlic, optional
About 1/2 to 3/4 of a quart of brine:  3 Tbsp. sea salt (I like Redmonds or Celtic) per quart of filtered water (don't use chlorinated water)
Arrange as many of the cucumber halves in a quart-sized, wide-mouth  glass jar as will fit easily.  Also leave a space of at least 2 inches at the top of the jar.  I place them in vertically, side-by side.  Add the dill and garlic, if desired, by pushing them down in the spaces between the cucumbers.  Dissolve (by stirring well) 3 Tbsp. of salt in 4 cups of filtered water in a quart mason jar.  Pour this over the cukes  to within an inch of the top of the jar.    Now place a small glass bowl over the mouth of the jar–it should fit so that the cucumber halves are kept submerged and the mouth of the jar is completely covered but CO2 will still be able to escape (don't cap the jar with the lid!)– remove the bowl and add more brine to cover the cucumbers if the cukes are not completely submerged.  Place in a 65-70 degree F room out of direct light or use a cooler as described above.  Put a plate or bowl under the jar just in case some brine spills over as the fermentation proceeds.    Check every day to be sure the cukes stay submerged.  The pickles should bubble as they ferment and be soured through in 4-7 days (should be dark green all the way to the center).  Cap the jar and keep in the refrigerator.