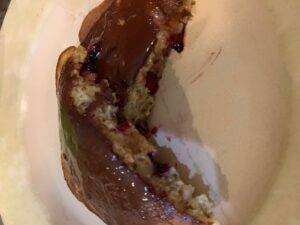 Special occasion pancakes for sure!  Maybe for a birthday or other celebration?  The good news is these pancakes taste like dessert with the optionals but have no added sweetener if made as plain blueberry pancakes.  This is a gluten-free and sugar-free, quick and easy recipe filled with superfoods that kids will love.
Serves 2
1 cup finely shredded dried coconut
1/2 cup arrowroot flour
1/4 cup whole flax seed, ground in a blender
1 large ripe pear, skinned and cored
1 tsp. baking powder
1/4 tsp. sea salt
4 eggs
1/2 cup coconut milk or water
1 cup fresh or frozen blueberries
1/4 cup walnut pieces, optional
1/4 of a bar of 85 to 90% dark chocolate, cup up in 1/2 inch square pieces or 2 Tbsp. chocolate chips, optional
ghee and honey as topping, optional
In a food processor place the coconut, arrowroot, ground flax seed, baking powder, and salt.  Pulse just enough to mix well.  Add chopped pear, eggs, and coconut milk or water.  Process until thoroughly blended.
Heat a skillet over medium heat.  Add a little ghee just to grease the bottom lightly–use a spatula to spread evenly.  As soon as the pan is hot, spoon 2-3 Tbsp. of batter per pancake.  Immediately place 6 or so blueberries on each pancake and a few walnut pieces if desired.  Adjust the heat down if necessary so the pancakes do not burn–3-5 minutes per side usually does it in my pan.  When you see little bubbles forming on the outside it's time to flip them.  If desired, place a few chocolate pieces or chocolate chips on the top after flipping–they will melt while that side down cooks.  Gently spread the melted chocolate over the top.  Place on a plate and top with a tsp. of ghee and some honey if desired.  A 1/2 tsp of honey per pancake is all it takes to sweeten these up.  Serve while warm.