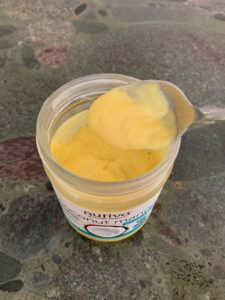 I have seen recipes online for making mayo right in a wide-mouth glass jar in one step using an immersion blender–this is a great idea!  And it is my preferred method now that I know how well it works.  I have had it fail a few times but I think that was because I did not wait until the ingredients came to room temperature.
Here's my version which uses a blend of equal parts olive, sesame and coconut oils.  You could use all olive oil or just two oils– olive and sesame or coconut.
Look at the gold color of this mayo in the picture–the result of using very good quality eggs from pastured chickens.  Only use the best quality eggs since the product is not pasteurized.
2 egg yolks from pasture-raised chickens fed antibiotic/hormone-free feed, room temperature
1 tsp.. honey–optional
2 Tbsp.. raw, organic apple cider vinegar
1/4 to 1/2  tsp. sea salt
1 tsp. prepared yellow mustard
1/3 cup (room temperature–not cold) each of extra-virgin olive oil, cold-pressed organic sesame oil, and organic coconut oil
OR 2/3 cup of extra-virgin olive oil and 1/3 cup of sesame  or coconut oil
Be sure your ingredients are at room temperature.  Place the egg yolks in a clean, dry wide-mouthed glass jar (16 or 32 ounce size).  Add the  apple cider vinegar, salt, mustard, and honey.  Pour the oil on top. Place the blender head all the way into the bottom of the jar where the egg yolks are and pulse briefly in bursts while holding the head in place (the bottom of the jar).  Do not move the blender head up and down until you see the "creamy white" mayo forming around the blender head and then only move it up slowly.  Be patient and only pulse a few seconds at a time.   Once the egg yolks and other ingredients are clearly well mixed and the oil is starting to get pulled in and changing to creamy yellow in color  continue to pulse while moving the head of the blender very slowly up and down gradually working your way up as the oil gets pulled in.  Do this until all the oil is emulsified.  Do not over-mix–as soon as the mayo completely forms, stop!  The mayo should be thick by this time–as thick as regular mayo but it will thicken more once refrigerated.   Keep refrigerated. Very nice to have a lot less clean-up–store the mayo in the fridge in the mason jar!