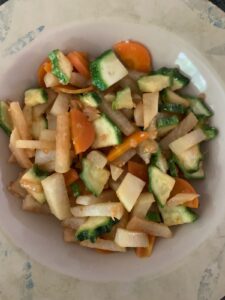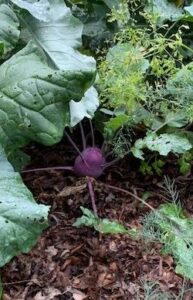 Kohlrabi is an interesting vegetable to grow and to eat–look at the picture and the way it grows in a bulb shape right at ground level with leaves whirling out.  This variety is purple but once peeled it is almost white inside.  It's not commonly eaten in the US but it likely can be found in markets with good organic produce sections or at your local farmers markets.  Even though it is in the cruciferous family with cabbage and broccoli it is mild tasting.  I know some folks like to eat it raw but this family of vegetables is better for you cooked until just tender.
Serves 2-4
1 kohlrabi, about 4 inches in diameter, peeled and cut into match-stick size pieces
1 carrot, cut in 1/8-inch half-rounds
1 small zucchini, 6-8 inches long, cut in 1/4-inch quarter rounds
2 Tbsp. ghee
2 large cloves garlic, peeled and crushed
tamari or chickpea miso to taste
salt and black pepper to taste if desired
red pepper flakes to taste if desired
Prepare/slice all vegetables but keep separate.  Melt the ghee in a large skillet over medium heat.  Add the garlic, stir and add the kohlrabi right away so that the garlic does not brown or burn.  Stir well and cover with a lid for a few minutes.  Add the carrot, stir well and cover again.  Give this mixture a stir every few minutes and cook with the lid on until just tender–maybe 5 minutes or so.  Add the zucchini, tamari or miso (mix 1 Tbsp. miso with 2 Tbsp. water before adding), and the rest of the seasonings and stir well.  Turn the heat off and keep covered for 5 more minutes to allow the zucchini to cook.   Add more seasonings to taste if desired and serve immediately.