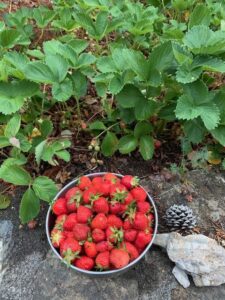 2021 is turning out to be a good year for strawberries–we are overloaded!  Don't forget about this shortcake recipe originally published 5/11/20.
Strawberries have come early this year so we had them for Mother's Day.  This gluten-free recipe is dairy-free also except for the ghee, but I make an exception for ghee as being very likely safe for those on a dairy-free diet.   I think that the ghee could be substituted with coconut oil but I have not tried it.  Instead of whipped cream, use the coconut cream recipe posted previously.
Remember to buy organic strawberries if you don't have them in your garden.  Berries are generally sprayed heavily and people have been known to react to the chemicals  from eating a lot of in-season berries.
Also, be careful making substitutions for the sugar in this recipe as it could change the texture with undesirable results.    The sugar prevents the arrowroot from making the shortcake gummy.  You could use coconut sugar or sucanat  but the cake will not be white–it will be brown.  Honey or maple syrup will totally change the texture so I stick with a small amount of cane sugar on this one.  I add more sweetness to the cake with the monk fruit powder.   Taste your batter and decide if it is sweet enough and add more monk fruit powder in very small amounts until you achieve your desired result.
Serves 4
1/2 cup arrowroot flour
2/3 cup dry finely shredded coconut
3 Tbsp. organic sugar
1 tsp. baking powder
1/2 tsp. sea salt
2 Tbsp. melted ghee
1 egg
1/2 to 1 tsp. organic pure monk fruit powder (only ingredient should be monk fruit)
1 tsp. vanilla extract
1 tsp. lemon zest (optional)
2 cups sliced organic strawberries
1 cup coconut whipped cream
Mix the first 5 (dry) ingredients in a food processor.  Add the egg, melted ghee, vanilla extract, lemon zest if desired, and process again until well mixed.  Spread in a 8 inch x 8 inch baking pan.  Bake at 325 degrees F for 12-15 minutes or until knife inserted in the middle comes out clean–do not over-bake or cake will be dry.
Let cool.  Cut into 4 squares and serve each square with 1/2 cup strawberries and 1/4 cup of coconut cream .