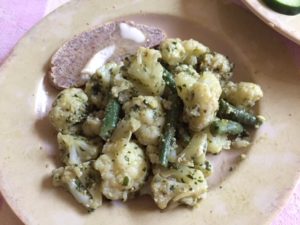 This recipe is a version of a previously posted recipe for green beans with pesto  This one uses primarily cauliflower.  One other difference is that I used pine nuts which does make pesto extra special.  The gluten-free bread shown here was delicious freshly baked and served hot with these veggies.  It is easy to make–stay tuned as I will post that recipe next time.
1 head of cauliflower, cored and cut into bite-sized florets
2 cups green beans, cut into 1-2 inch lengths
pesto, follow the link above for that recipe but double it
4 Tbsp. extra-virgin olive oil
Prepare the  pesto but double the recipe, and set aside.
Steam the cauliflower in a vegetable steamer until just tender–this means you can pierce the florets with a fork with just a little resistance.  Remove from heat and rinse with cool water to stop the cooking, drain, and place in a bowl.  Now steam the green beans to the same tenderness following the same procedure and then adding to the cauliflower in the bowl.  Now use a spoon and mix the vegetables together well.  Add the pesto mix and stir well again.  Add the olive oil and mix well again.  Taste and add more salt if desired.  Serve room temperature or keep in refrigerator to serve cold as it will keep for a few days.