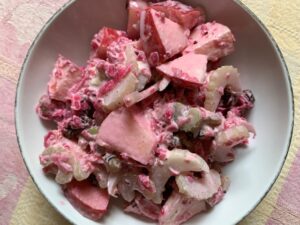 Waldorf salad is one of my favorites.   Here's my new and improved version.  I replaced plain raw red cabbage with cultured red cabbage which provides lots of probiotics and increases digestibility of the cabbage.  Also, I made my own mayo with good oils.  It might seem like a lot of work but remember that 1 head of cabbage will make about 1 quart of cultured cabbage which will be enough to make the salad 4 times.  The cultured cabbage will keep in the fridge for 1 month or so.  Also, you can substitute yogurt for the mayo–I've done this and loved it so if you are dairy-tolerant give it a try.  Once you have gathered the ingredients the salad is quick to make.  Look forward to your feedback!
Cultured Red Cabbage
1 head of organic red cabbage, finely shredded (I used a food processor)
1 rounded Tbsp. of sea salt
1 Tbsp. lemon juice
1 Tbsp. of equal parts of ground anise, fennel and caraway seeds (optional) (use a blender to grind the seed)
1/2 packet of Body Ecology Cultured Vegetable starter, optional
Mix all ingredients in a glass or stainless steel bowl.  Let sit for 15 minutes to allow the salt to pull the liquid out of the cabbage.  Pack the cabbage into a wide-mouthed 1/2-gallon sized canning jar (or 2 wide-mouthed quart sized canning jars).  Follow the directions for making cultured veggies here.  Allow to culture at room temperature (65-70 degrees F) for about 5 days pressing down every day.  When it stops bubbling when you press down, it is ready to be refrigerated.  It will keep about 4 weeks but try to keep the cabbage submerged in the liquid for better storage–just press them down after you have spooned out what you want and try  not to spoon out much of the liquid.
Good Mayonnaise
2 egg yolks from pasture-raised chickens fed antibiotic/hormone-free feed, room temperature
1 tsp.. honey–optional
2 Tbsp.. raw, organic apple cider vinegar
1/4 to 1/2  tsp. sea salt
1 tsp. prepared yellow mustard
1 cup (room temperature–not cold) extra-virgin olive oil (1/2 c olive oil and 1/2 cup cold-pressed avocado oil is an option)
Be sure your ingredients are at room temperature.  Place  first five ingredients in food processor and pulse until well blended–be sure this is thoroughly mixed by scraping the bottom and sides of the processor with a spatula.  Then, while the processor is running slowly pour in a thin stream the olive oil–think drizzle.  The mixture should stiffen  as you add the oil and be set once your oil is all added.  This is finicky and it has failed for me on occasion.  I prefer the version described below as I have had more success with it.  One step that is very important is the room temperature ingredients so don't skip that!   It should be as thick as regular mayo but it will thicken more once refrigerated.   Keep refrigerated.
Postscript on the mayo:  Since posting this recipe I have seen recipes online for making mayo right in a mason jar in one step using an immersion blender–this is a great idea!  Place the egg yolks in a clean, dry wide-mouthed mason jar (16 or 32 ounce size).  Add the  apple cider vinegar, salt, mustard, and honey.  Pour the oil on top. Place the blender head all the way into the bottom of the jar where the egg yolks are and pulse briefly in bursts while holding the head in place (the bottom of the jar).  Do not move the blender head up and down until you see the "creamy white" mayo forming around the blender head and then only move it up slowly.  Once the egg yolks and other ingredients are clearly well mixed and the oil is starting to get pulled and changing to creamy yellow in color  continue to pulse while moving the head of the blender very slowly up and down gradually working your way up as the oil gets pulled in.  Do this until all the oil is emulsified.  Do not over-mix–as soon as the mayo forms, stop!  The mayo should be thick by this time.  Very nice to have a lot less clean-up–store the mayo in the fridge in the mason jar!
Serves 4
Waldorf Salad
2 Fuji or Gala organic apples, cored and chopped in bite-sized pieces
1/4 to 1/2 cup mayo or 1/2 cup organic whole milk yogurt
1 cup cultured red cabbage
1/2 cup celery, finely chopped
3 Tbsp. organic raisins
1/3 cup walnuts, chopped, or 1/3 cup toasted sunflower seeds
1/2 tsp. sea salt
Combine all ingredients and stir well.  Serve immediately.  Keep refrigerated but best used within a day.